Healthcare providers are a trusted resource for families with a strong history of ovarian cancer and individuals who are at high risk for ovarian cancer. We hope that you will tell your patients about the MiDe Study to help us improve care for these populations.
Share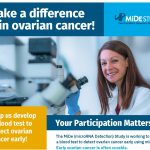 Please share this flyer with others
Study goals
Our goal is to validate a blood biomarker test to better predict cancer risk for people who are at high risk of ovarian cancer.
Eligible patients
Patients may be eligible to participate in the MiDe Study if they are found to have a pathogenic variant in one of the following 11 ovarian cancer-related genes: BRCA1, BRCA2, BRIP1, RAD51C, RAD51D, PMS2, MLH1, MSH2, MSH6, PALB2, or EPCAM and have at least one ovary intact.
Patients may also be eligible if they have a relative who has a related genetic variant or a negative or inconclusive genetic testing result but are still concerned about ovarian cancer development based on their personal or family cancer history.
Please contact the research team with any questions you may have about patient enrollment.
How to refer patients
Please share our website with your patients or contact us using the information below.
Questions?
If you have any questions about the study, please contact the MiDe Study team at:
Dana-Farber Cancer Institute
midestudy@DFCI.HARVARD.edu
617-582-8833